Understand the test range
The questions with all of engineer certification exam, has been created based on the technical skills standard that OESF has prescribed.
---
What is "AndroidTM Technical Skill Standard"?
Android™Lack of technology who can with the expansion of the market of Android-based products, to carry out product development is cause for concern. So, we define the items that can be utilized by everyone in the world, we created an standard to skills measurement of technical personnel, individuals and businesses or to understand the capacity of their own, to implement the training program. That is "Android™ Technical Skill Standard"
The technology certification exam is based on the skill items of Android ™ technology skill standards. It will be changed without prior notice to keep compatibility of the Android ™ newest version, and it will continue to be updated sequentially.
---
Features of standard technical skills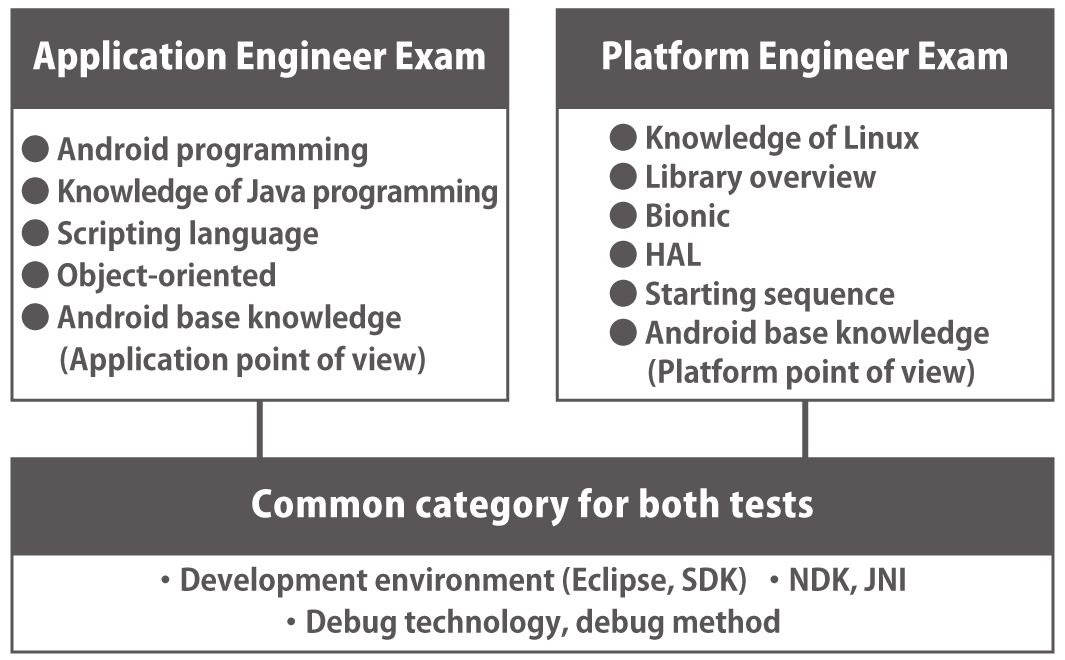 We assume that there are two types of engineers in the following areas from component configuration of Android ™.
People who use the Android ™ = Who can develop and maintain the application
People to be able to build the Android ™ = Who can develop and implement or modify the platform
To respond to the engineer, the "Android ™ technical skills standards" in accordance with the tchnology certification test, the following have been defined。
Application professional skill for Android™(Japanese version is ready only for preview )
Classification is the field in performing measurement skills corresponding to type itself involved. We have been exposed as a syllabus, respectively.
Caution!
In order to respond to the version up of the Android ™, the contents of the Android ™ technology skill standards, we will continue to update without notice.